Packing It In --
Packing Your Turkey Vests, Backpacks, Fanny Packs
-- by Rob Ramsdale --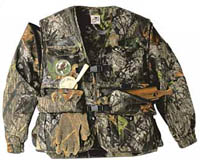 Due to the expanding popularity of turkey hunting and the ever-increasing numbers of turkey hunters, there is a huge variety of hunting equipment available nowadays. In the past, turkey hunting was a much simpler activity. The hunter picked up his every-day, double-barrelled shotgun, put a few shells in his pocket and walked out the door. He usually dressed in his drab colored work clothes and hat and slipped his favorite box call, slate call, wingbone or scratch box into his jacket on the way out of the house.

No camouflaged clothing. No fancy camo, extreme full-choked turkey gun. No vest with 20 gazilllion pockets. No high-tech, high-frequency calls. It was him, his shotgun and his homemade turkey call -- all ready to do battle with a wary old gobbler.

Today's modern turkey hunter has more choices than he knows what do with. Having lots of choices can be a very good thing but it sometimes becomes overwhelming to a beginner. First, you have to decide what you are going to use to haul all of your equipment. This choice will also help determine the amount and type of gear you can carry with you into the woods.

There are 3 basic choices for packing turkey hunting gear into the woods: 1) Turkey Vest, 2) Back Pack and 3) Fanny Pack.
Turkey vests come in many different styles including the full vest/jacket style shown above and less expensive shoulder strap models. I prefer vests myself because of the many separate pockets and the game bag on the back that lets me carry decoys easily plus a gobbler if I am successful that day.
Back packs are used by many hunters also since they allow you to carry as much or more gear than the vests. They can also be removed and even used as a backrest if necessary.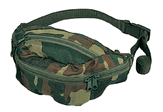 Fanny packs are the least expensive option (most are under $10) and are popular amongst many hunters since you can carry some gear but you're not weighted down nearly as much as with a backpack or vest. They also can be spun around to the front, providing quick access to anything inside.
However you decide to pack your gear into the turkey woods, the question still remains, "What do I take with me?"
There are as many answers to this question as there are turkey hunters in the woods. When I first started turkey hunting, I had a Lynch box call and my old Winchester pump. Now, I own more turkey hunting gear than any sane person probably should. I can spend hours going over my shelves of turkey calls the night before a hunt, just trying to pick out the perfect one to call in that gobbler in the morning. Watching me pick out turkey calls is probably about as bad as watching Imelda Marcos trying to pick out a pair of shoes. I realize I do not need to carry 22 different turkey calls with me but you never know what call the gobbler will respond to. I've sat down and gone through 10 different sounding calls before finding the one the gobbler likes.
Do you need to carry that many calls with you? No, absolutely not but if you want to there are now vests available that allow you to carry them and much more.
I have also hunted many times with the bare essentials both by choice and sometimes by chance. Like most turkey hunters, I have at various times forgotten my vest, my calls, and even my shotgun on more than one occasion. All of those trips came out okay and even when I forget my shotgun I usually have a camera with me to take pictures so all is not lost. On one very sleepy morning towards the end of the season several years ago, I arrived at my hunting location without my shotgun or any turkey calls. I had been chasing an old gobbler that continued to elude me after several weeks of hunting him. Without my gun or my calls, I ended up setting up that day and calling in that old gobbler to within 10 yards of me just by making clucks and purrs with my mouth. Such is the life of a turkey hunter.
My bare bones hunting package consists of my shotgun, camo coveralls, turkey tag & license, shells and a mouth call. Usually, though, I have a vest with me and below are two lists of gear you can put in your vest or back pack. The "Basic Necessities" are items that are permanently in my vest. "Optional" items are items I sometimes carry or wish I had with me at some point and time in my hunting career.
Basic Necessities

Optional

Shotgun
5 shotgun shells
Full camo outfit including cap.
Turkey tag
Pencil or pen to sign tag
Turkey Calls ( Box call, Long box, friction calls, diaphragm call, wingbone call or tube call)
Crow Call
Chalk
Sandpaper - scouring pad
Gloves
Headnet or Facemask
Bugspray (Mosquitoes & Ticks)
Water or Drinks
Compass
Toilet Paper
Knife

Decoys
Turkey Tote
Extra set of gloves and facemask
Extra strikers for slate calls
Other Locater Calls - (owl, gobble tube, hawk, goose, coyote, peacock, woodpecker)
Leatherman type multi-purpose tool
Flashlight
Matches
Cellphone
Walkie Talkie / 2 way radio

GPS
Topo map of hunting area
Aerial photos of hunting area
Rain gear
Binoculars
Camera
Camcorder
Tripod
Laser Rangefinder
Ratcheting Pruners
Folding Saw
Ground Blind (or square piece of camo cloth)
Snacks / Food / MRE's
Moistened Hand Wipes
Seat or pad
Snake bite kit
I am sure there are many other items being carried around out there by some turkey hunter that I would have never thought of packing in my vest. In a way, that's the beauty of being a turkey hunter. You can approach turkey hunting in as simple a manner or as complex as you would like.
Ultimately, it doesn't really matter since it's the turkey who's in charge.