Ryan's First Turkey
By Mark Koehler
As I crawled over the fence to see what was on my neighbor's mind the ole gobbler sounded off to the west. After a brief visit I again turned my attention back to the noisy bird. It was the second week of the 2001 Missouri spring turkey season and the birds had been tough so far. All of my clients had taken birds, but we had worked hard to get them.
I was on my evening run, trying to locate a gobbler as they settled on the roost. As I got closer to the bird I realized that he was headed toward my house. Then I heard it, the faint "who-who, who-are-you" and the gobbler responded as if on cue. My son Ryan had heard the gobbler from the house and was doing what he had heard me do so many times, he was hooting to make the bird gobble.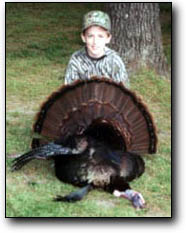 This was my 9 year old son, Ryan's first year to hunt, he had opted not to hunt during the special youth hunt so that he could hunt when the gentlemen from Louisiana was in camp. These guys have been coming up to hunt for several years and are more like family than clients. They had taken their first birds and were staying to try for their second bird and hoped to be around when Ryan connected.

When I got back to the house Ryan filled me in on all of the events of the evening. He had heard the gobbler across the road and hooted at him. When the bird finally settled on the roost he was just south of the house. Ryan was to start testing at school the next morning and we had agreed that he would not hunt until the test were over. We discussed the chance of getting his gobbler and being late and tired at school, and getting a chance at a gobbler won. I hated to not let him try since he was the one who got the bird fired up. I talked to my hunters, Red and Poole and they were in favor of helping Ryan with his hunt. We would position ourselves on three sides of the bird and hope that someone got a look.
It was pitch black as we slipped into the woods. Red had left to go across the road just in the event that the gobbler went back to that side and Poole went with us, he wanted to watch from a distance. We first set up on a bend in the trail, that way we could see in both directions. But when the gobbler sounded off we had overshot him so we had to back track and set up again. I put a Feather Flex hen decoy behind us and settled in.
A few soft yelps from my Carlton mouth call got his attention. He was still on the roost about 100 yds. from us. When he flew down I started in on him. He had landed on a shelf below the one that we were on, this was the perfect set up. If he did show up he would be close enough to shoot. Ryan was setting between my legs, I could see over his head so that I knew what he was seeing and that way I could tell him when to shoot.
The ole gobbler responded to my every call, he just wouldn't commit to sticking his head up over the ledge enough to see the decoy and let us have a shot. I had positioned myself so that I could scratch the leaves if the need was to arise. I yelped softly with my mouth call and scratched in the leaves, this was more then he could resist. I spotted his blue head coming up over the ledge. Then he strutted in to full view, it was a tremendous show that he put on gobbling and strutting. Ryan had his Rem. 870 Youth 20 ga. setting on his knee, so he didn't need to move very much to get the bead lined up. I kept waiting for the gobbler to straighten up before I instructed him to shoot. Finally he did and I felt Ryan tense up. After what seemed like an eternity the 20 ga. blasted and a load of #6's took the gobbler down.
We were both silent as we walked to the gobbler. Neither one of us could believe that Ryan had his first bird. Poole came into view and Ryan was greeted with a hearty hand shake and some back slapping. After tagging and checking the bird in as is required in Missouri, Ryan was still able to get to school just as his bus arrived.
Ryan's first bird weighed 22 pounds, 11.25" beard with 1.25" spurs. This was truly a most memorable hunt.
(You can contact Mark at diamondkoutfitters@hotmail.com )