The Trophy of a Lifetime
By Mark Koehler
As I watched the heavy bearded gobbler slip away through the thick underbrush I wondered if perhaps I had just passed up a chance at a bird of a lifetime. It was the third day of the 1992 Missouri spring turkey season. A last minute cancellation by a hunter from Massachusetts for my Diamond-K-Outfitters hunts, had given me a few days to hunt on my own and even rain wasn't going to keep me out of the woods.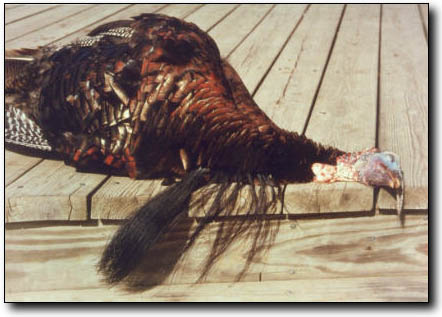 An early morning shower had put a damper on the gobbling on the roost, but I knew a heavy sounding bird was staying on a white oak ridge. So I setup along the edge of a field where I had seen gobblers strutting late in the mornings after their hens had left. I setup a hen decoy and settled in under my poncho. The rain finally let up and I heard a gobble about 100 yards down the ridge from me. I called and he answered I knew that he was coming so I decided to keep quiet.
Movement soon caught my eye, a turkey was coming off the ridge toward the field. As the turkey grew closer I could easily see that it was a hen, but it had a beard that looked like it could go 8 inches. Just then the tom gobbled to my left, if he kept coming and didn't change course he would pop over a small ridge and would be right on top of me in easy range. But as gobblers often do he changed course and angled up the hill, when he did show up he was about 50 yards away in heavy buck brush. I couldn't believe the size of his beard, it looked like it could go 16 inches or better. This was the best beard I had ever seen.
About that time the hen figured out that something wasn't right. She walked past me putting and headed straight to the gobbler. Needless to say he didn't come any closer, the distance was about 40 yards. I eased my Remington M-1100 L.H. Magnum up but there was just too much brush in the way. I wasn't about to take a chance on wounding such a trophy. As I eased the gun down I wondered if I would ever see this gobbler again. But I also knew I was hooked. I would spend every chance that I had trying to take this gobbler.
I am fortunate enough to own most of the land that I guide and hunt on so I knew that there shouldn't be any other hunters working this bird, so I eased out not wanting to shake him up anymore than I already had.
I returned the next morning to the same area. This time two birds answered my owl hooting. They were roosting in a white oak holler very near where the heavy bearded gobbler had come from the day before. As the sun began to light up the sky, I let out some soft tree yelps. Both gobblers immediately answered. As soon as they hit the ground I cut at them, both birds answered. I could tell that one sounded like a jake and as luck would have it, the jake showed up but the other gobbler went up the ridge.
The jake hung around for a while hoping for some response from the decoy. He finally lost interest and drifted off, this allowed me to go after the other gobbler, but he continued to move further on up the ridge and stopped gobbling.
Friday morning brought rain once again, a thunderstorm rolled in just at daybreak, but not before a gobbler had sounded off at the thunder in the distance. I knew he was still there so after the rain stopped I worked my way down the ridge following an old logging road. As I eased along I heard a gobble in the distance. After moving closer I called soft and got no response.
I decided to slip down to the edge of the field. Two birds were in the field where I had setup the decoy two days earlier, as I eased along the edge of the field one of the birds strutted and gobbled, another gobbler answered from the ridge. I called and the birds in the field finally working them into my position. It was the jake and a roan colored hen. It was obvious that if I was going to get this gobbler my tactics were going to have to change.
Saturday morning arrived clear and cool; the perfect morning for turkey hunting. This time I decided to approach from the creek bottom in hopes that the change would lure him to me. As the sun began to light the eastern skyline I hooted and a gobbler cut loose, if this was the same bird he had roosted further down the ridge closer to the creek bottom.
My plan was to use two calls, not actually calling to the gobbler but trying to sound like two hens that had roosted together. I called softly using the double reed call, a Carlton Medium Bull which I used to bugle in bull elk in the fall, it seemed to produce great turkey talk also, so I used it and a Quaker Boy Pro Triple, their combination had proved deadly on several occasions. First soft tree yelps then some fly down cackles. When I did this the gobbler really cut loose, double gobbling, I heard him fly down and he gobbled as soon as he hit the ground, it seemed that I had his attention.
I had positioned myself in a dry creek bed so that when and if the tom showed up he would be with in easy range and also if I needed to move I could do so with out being seen. I continued making hen talk not calling very loud and adding some purrs in with the yelps all the while the tom was double and triple gobbling, the hen talk really had him fired up.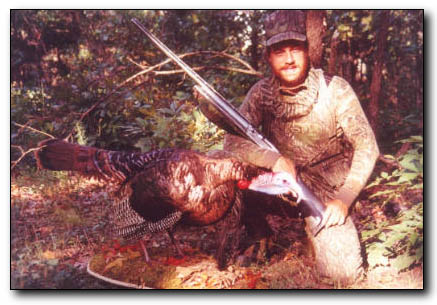 Soon I could hear him drumming and spitting, when you can feel the drumming you had better be looking down the barrel. So I eased my Remington M-1100 L.H. Mag. up on my knee again and waited. I saw him coming down the bank of the dry creek bed. It was the heavy bearded tom from four days ago. When he stepped out from behind a big sycamore I let him have a load of Remington Du-Plex 4 x 6's at 18 steps, when I picked up the bird I couldn't believe my eyes instead of one big beard he had 9 beards.
After checking him in I contacted Bud Bennett, N.W.T.F. member and editor of the Show-Me Gobbler so that he could score the bird. Total length of the 9 beards was 67 inches, the longest was 12", and total score was 178.5. - 9 Beards is the most on record with the N.W.T.F. Patience and persistence had paid off. The prize was a trophy of a lifetime.
(You can contact Mark at diamondkoutfitters@hotmail.com )