Happy Thanksgiving !!!
It's the time of year when everyone's mind is on turkey -- not hunting -- but eating.
Check out our recipe page for some fresh ideas.
If you would like a little turkey history lesson so you can baffle your relatives at Thanksgiving dinner -- we have a page for that as well.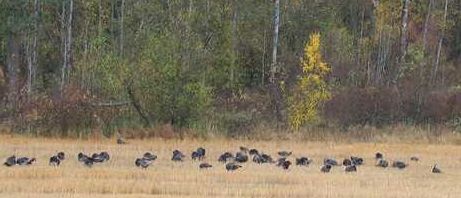 Fall Turkey Calling Techniques by T R Michels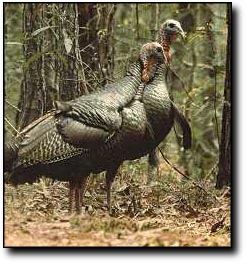 The fall turkey season is now in full swing. Check out our
Fall Turkey Hunting Guide

with tips and tactics for taking turkeys in the fall.
__________________________________________________________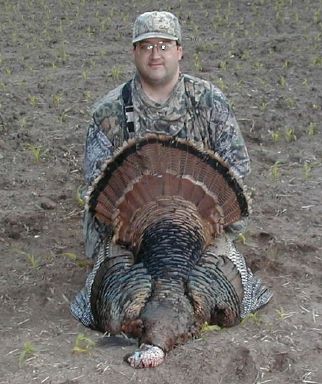 Robert Ramsdale
1965 - 2006
Webmaster - Wildturkeyzone
2006 Wild Turkey Bourbon/NWTF Grand National Calling Championship Results

Grand National Calling Championships
1st: Matthew Van Cise, Grand Valley, Pa. (473 points)
2nd: Sadler McGraw, Camden, Ala. (469 points)
3rd: Billy Yargus, Ewing, Mo. (467 points)
4th: Walter Parrott, Smiths, Ala. (464 points)
5th: Chris Parrish, Centralia, Mo. (462 points)
Owl Hooting Championship
1st: Mark Prudhomme, Georgetown, S.C. (228 points)
2nd: Jeremy Palmer, Harrisburg, Pa. (220 points)
3rd: Daymon Davis, Danville, Pa. (219 points)
4th: Sadler McGraw, Camden, Ala. (217 points)
5th: Carl Drake, Westfield, In. (216 points)
Gobbling Championship
1st: Doug Benefield, Newnan, Ga. (227 points)
2nd: Lance Chapman, Morgantown, Ky. (223 points)
3rd: Scott Wilhem, Eau Claire, Wis. (219 points)
4th: Preston Pittman, Petal, Miss. (219 points)
5th: Alex Vedrinski, Streetsboro, Ohio (214 points)
Champion of Champions
1st: Chris Parrish, Centralia, Mo. (1172 points)
2nd: Walter Parrot, Smiths, Ala. (1163 points)
3rd: Dick Kirby, Orchard Park, N.Y. (1153 points)
Team Challenge
1st: Doug Benefield and Daymon Davis (717 points)
2nd: Mark Prudhomme and Kerry Terrell (705 points)
3rd: Steve Cobb and Matt Morrett (692 points)
4th: Sadler McGraw and Brett Berry (690 points)
5th: Don Shipp and Larry Shockey (688 points)
Spit, Drum and Gobbling Contest
1st: Chris Walls, Morgantown, W.V.
2nd: Alex Vendrinski, Streetsboro, Ohio
3rd: Charlene Eckstein, Gerald, Mo.