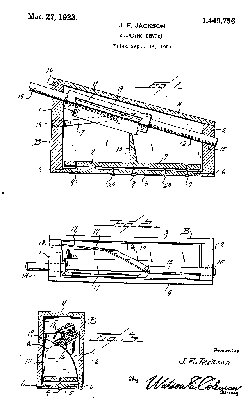 John E. Jackson Patent
1923
(click to enlarge)
There is not a lot known about E. G. Chalkley's call making business. He started producing these Push/Pull turkey calls after obtaining the patent rights from John E. Jackson, a fellow Richmond, Virginia native. John E. Jackson had produced a few of the calls under his name and those calls are extremely scarce. Interestingly, the Jackson call was stamped on the side "Duck Call, Goose Call, Turkey Call, Partridge Call".
Chalkley always just considered his call making business a hobby. His career as a sporting goods manufacturer's representative allowed him to easily distribute the calls to dealers, eliminating the need to advertise. All of his calls were sold by word-of-mouth. Besides his turkey calls, he produced a complete line of calls including his famous Crow Call and Duck, Hawk and Goose calls. The Chalkley calls were produced through his death in 1937. These first calls had the Richmond, Virginia address and the patent number on the label.
After E. G. Chalkley died, his son, Milton, took all of the remaining stock of call parts back to his home in Suffolk, VA where his wife, Nina, began assembling the calls. She was largely responsible for continuing production of the calls up until 1988. The early Suffolk calls had the patent number stamped on them. Nina was a musician and had the ear for making and tuning calls. Milton was a jobber of wholesale fishing and hunting equipment throughout the entire south so advertising was not necessary.
---
Turkey Calls Produced

(Click on Images to Enlarge)

Years Produced

Description

No Image Available.

1923?? - 1937

These first calls were produced by Mr. Chalkley in his basement in Richmond, Virginia. It is unknown exactly when he started producing this call after he obtained the patent rights from John Jackson. These calls were produced from pine, mahogany and maybe poplar.

Calls with the Richmond address are very scarce and even more collectable than the Suffolk calls.

1937 - 1988

After E. G. Chalkley's death, his son Milton took the remaining stock of call parts to his home where Milton's wife, Nina, took over the assembly, tuning and distribution of the call.